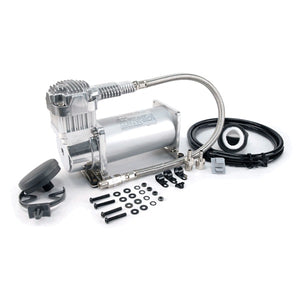 VIAIR
VIAIR 400C Air Compressor
Regular price
$349.00
$0.00
Unit price
per
The VIAIR 400C Compressor is a great value for 150 PSI rating with a 2.54 CFM out put and 33% duty cycle at 100 PSI, intended to fill air tanks up to 5 gallons. Available in a chrome finish. Looking for the dual pack? Find it here.
This 150 PSI rated air  compressor features a 33% duty cycle that works quickly and efficiently putting out 2.62 CFM flow at zero PSI head pressure. Additional features include a standard 1/4" NPT stainless steel braided leader hose with inline check valve and insulated wiring for simple installation. The 12-volt VIAIR 400C air compressor comes with a heavy duty 40-amp relay and a 110 PSI cut-on / 145 PSI cut-off pressure switch, a remote mount filter assembly and mounting hardware.
Includes:
Thermal Overload Protector
Check Valve
Vibration Isolators
Mounting Hardware
Stainless Steel Braided Leader Hose
Air Line for Remote Mount Air Filter
Remote Mount Air Filter Assembly
(2) Replacement Air Filter Elements
Installation Instructions
Specifications:
12-Volt
Permanent Magnetic Motor
Duty Cycle: 33% @ 100 PSI
Max. Working Pressure: 150 PSI
Max. Air Tank Size: 5.0 Gallon
Max. 12V Amp Draw: 30 Amps
Ingress Protection Rating: IP67
Dimensions: 9″L x 4″W x 6.75″H
Net Weight: 8.65 lbs.
Fill Rates:
| 5.0 GALLON TANK | FILL RATE |
| --- | --- |
| 0 to 105 PSI | 2 min. 55 sec. (± 10 sec.) |
| 85 to 105 PSI | 45 sec. (± 05 sec.) |
| 0 to 145 PSI | 4 min. 50 sec. (± 10 sec.) |
| 110 to 145 PSI | 1 min. 40 sec. (± 05 sec.) |
Note: Use thread sealant for proper installation. Thread tape is not recommended. Properly sealed, recommended torque is 12 to 15 ft. lbs.
Some items may have limited stock available and may take 1-2 weeks to ship. If you require immediate shipping, please contact us prior to placing your order to check exact stock on hand.
Orders $1,000+ CAD will have shipping rates calculated and charged separately, at the time of shipping.
Click here to read our shipping policy.
---
Share this Product
---