• Chevy • LS Motor • Performance • Restoration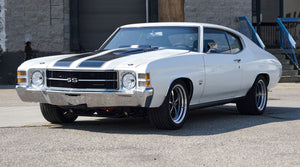 This Chevelle came in originally to fit a new 6-speed transmission up to the previous 396 big block engine, along with floor plans and final assembly. The customer had his heart set on the LSX 454, so this beauty returned to us shortly after for a full engine swap and a multitude of upgrades to bring her to a modernized classic muscle car, and reveal the true performance potential.  LS Swap to GM LSX 454 with Holley Terminator EFI LS Classics Dress-Up Kit and LS Classic Series Accessory Drive Kit Smooth firewall and restored engine bay with flat black finish Fitted...
---
• Chevy • Restoration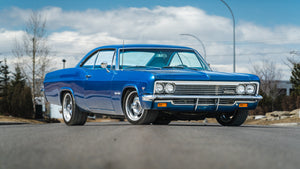 After a long 6 years resting in a field, this '66 Impala Super Sport was brought back to life! Full Epic restyling to a modern muscle car stance, billet two piece wheels with four wheel disc brakes compliment a brand new, custom interior. The mechanical restoration and fuel injected 502 mean this Impala won't be getting any beauty sleep any time soon.
---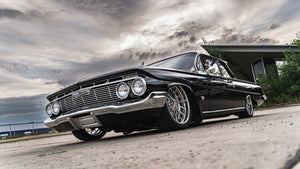 What an Epic ride. This 1961 Chevrolet Biscayne was completed with a brand new Air Lift Performance 3H air suspension management system with a custom set-up including the Epic AURA 5 gallon air tank in red to match the spicy interior. Topped off with an engine redress and 20" 
US Mag Heritage wheels this Biscayne is set up to be a show stopper.
---
• Air Suspension • Chevy • LS Motor
Bringing this Blazer into the 2020s! This truck has been around the block, but deserved some much needed love and attention. An LS swap with full mechanical, electrical update and a modern air management set up will do the trick. Complete with the Epic AURA air tank, we're going to see this green goddess riding low for years to come.
---
• Air Suspension • BMW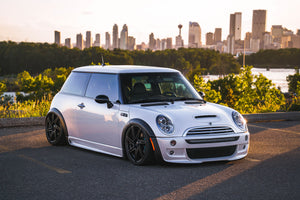 This supercharged Mini Cooper has never looked so good! It's never ridden this good, either. Air struts paired with a custom air management system bring the ride quality to another level. The new body kit and complete tri-stage metallic paint will turn heads as it rips around Calgary.